Product Description
The Vita Smart convertible car seat offers lifesaving technology with superior comfort features for children from birth to 4 years of age. Vita Smart features our new Safety Shield technology, which offers tailored and patented, Air Protect and G-CELL head and torso protection whilst being Australia's most compact rearward facing car seat at 540mm depth.
Age:
Newborn to 4 years approx
As low as
$499.00
Regular Price
$749.00
or 4 interest-free payments of
$124.75
Learn more
The Maxi-Cosi Advantage
New Dual Action Protection, offering superior head and torso protection with Air Protect and GCELL.
Learn more
Taking care of families is what Maxi-Cosi service is all about. That's why we want you to enjoy our products for as long as possible.
Register Your Car Seat
Our accident exchange program helps consumers having their damaged car seat replaced ater a car accident
Learn More
Technical Specifications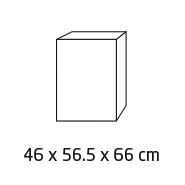 Lifesaving technology with superior comfort
- Safety Shield, Dual Action Protection, offering superior head and torso protection.
- Air ProtectTM superior side impct protection, featuring NEW compact design formula
- NEW compact G-CELL design for improved safety and ease of installation.
- Compact rearward facing car seat @540mm depth.
- Large seating depth for superior child comfort for older ages.
- Fitted with ISOGO for easy installation.
- NEW smart and compact ISOGO storage.
- Rearward facing to 30months approximately (maximum height marker 390mm)
- Forward facing to 4 years of age approximately (maximum height marker of 435mm)
- Anti Twist harness strap guides.
- Modular Infant Insert: Offering superior comfort for newborns with 'Cool Baby' wicking fabric.
- 3D Mesh for added pressure support and airflow.
- 8 position headrest, and built in harness adjustment.
- Easy 3 posititon forward-facing seat recline.
- Built in rebound bar for simple quick seat installation.
- Removeable and machine washable seat covers.
- Easy-Out Magnetic Harness Holders to aid simple and safe use of harness.
- NEW 2 piece infant insert with head huggy to aid superior comfort for infants.