Lila Comfort Stroller - Sparkling Grey
Product Description
The NEW Lila Duo Stroller sets a new standard in stroller comfort. 
You may never want to put your child down. But when you have to, Lila is the next best place. Developed in collaboration with paediatricians, our newest stroller has been carefully designed for supreme travel comfort for babies and toddlers and make your life as a parent easier.
Suitable for babies from birth to 4 years of age (20kgs), the Lila Stroller transforms from a single stroller to dual configuration easily. 
With comfort always top of mind, a pediatrician-developed ShapeOfYou newborn inlay was designed especially for the Lila. The ergonomic memory foam cocoon inlay reduces space around the child's body, providing the ultimate feeling of security, and the shaped cavity also reduces pressure under the child's head, helping to prevent flat-head syndrome.  
Lila also captures the attention of fashion-forward parents, with vegan leather accents, a sleek, narrow silver frame and three Nomad color varieties to embody the style of any on-the-go parent. And for parents expecting a second, a duo kit is an available add on to accommodate a baby and toddler at the same time.
Age:
Newborn to 4 years approx
As low as
$749.00
Regular Price
$1,199.00
or 4 interest-free payments of
$174.75
Learn more
The Maxi-Cosi Advantage
All Maxi-Cosi strollers comes with 3 years warranty including wheels. You can extend your warranty by another year by simply registering your stroller with us. Giving you 3+1 year warranty!
Register your stroller
Match our stroller range with any Maxi-Cosi baby capsule like Mico Plus, Mico AP or Citi to make a complete travel system.
View our baby capsule range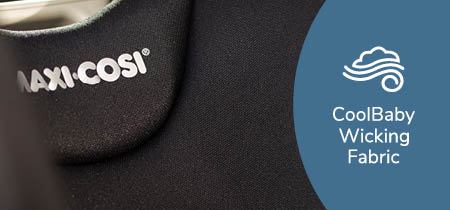 Cool Baby wicking fabric allows air to flow in and draws moisture away from your baby's skin. Keeping your baby dry and comfy.
Learn More
All of our Maxi-Cosi strollers comes with free accessories that are valued upto $295.
Learn More
Technical Specifications