Product Description
The LUNA car seat with NEW World First Adjustable Headrest support offers superior comfort and safety.
This much awaited fully harnessed car seat encompasses our World First adjustable comfort headrest technology featuring Air Protect™ Superior Side Impact Protection, and our NEW Dual Action crotch adjustment that enables the perfect fit for your growing child.
Age:
6 months to 8 years approx
The Maxi-Cosi Advantage
The unique design acts like a soft cushion to absorb side impact crash forces, transferring the energy away from your child's head.
Feel the Difference
Taking care of families is what Maxi-Cosi service is all about. That's why we want you to enjoy our products for as long as possible.
Register Your LUNA
Our Accident Exchange Program helps consumers having their damaged car seat replaced after a car accident.
Learn More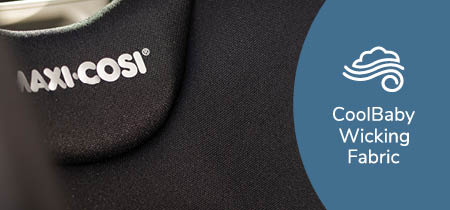 Cool Baby wicking fabric allows air to flow in and draws moisture away from your baby's skin. Keeping your baby dry and comfy.
Learn More
Technical Specifications
• NEW World First adjustable comfort headrest technology.
• Air Protect™ Superior Side Impact Technology is specifically designed to shield your child's head from side impact forces through the precise release of air.
• NEW innovative and easy to use 'dual action' buckle and crotch adjustment – ensuring the perfect fit for your growing child at every stage of life.
• The original 'Cool Baby' wicking fabric drawing moisture away from your child.
• No Twist harness straps for your complete piece of mind
• 2 position recline for baby's comfort
• Adjustable armrests
• Large cup holders, perfect for popular sippy cups
• In car harness and headrest adjustor, no need to remove the seat, adjust the head rest with no fuss
• Removable, infant insert so your baby is always comfortable
• Easy machine washable cover so your baby is always in the cleanest seat